Welcome to SISA Security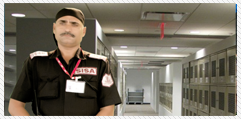 SISA Group is an ISO 9001:2015 Certified Company providing Security Services & Cash Management Service nationally. We have created a niche for ourselves in the market since the commencement of our operations spanning 23 years.
We operate a mature India's accredited Quality Assurance System incorporating Indian Security Industry Operating Standards.
Read More +
Call SISA
1800-102-0197
Subscribe Newsletter
Solutions

Physical Guarding
This Division is the strongest arm of the group....

Cash Handling Division
The secure and timely movement of cash and valuable is handled by this division...

Toll Operation Division
To ensure effective utilization of manpower we entered the toll collection operations in FY 2018-19...

Event Security
This Division undertakes the Total Security of your event....

E-Commerce Logistics
This Vertical handles the last Mile and the First Mile operations for the E-Commerce Companies.
Testimonials
- Head - CIT, ICICI Bank.
"Our Experience with SISA for last 3 years has been very good And they have lived unto our expectations."
- Mr Uday Kumar, Head - Security, IIM ,Bangalore.
"We have been associated with SISA group since last 4 years. During this period, they have exceeded our expectations in terms of quality of security services. We will not hesitate to recommend them to any organization looking for a reliable security partner".
- Mr Umesh Sharma, Senior VP-HR, Micro Inks Limited
"SISA group has been one of the pioneers in the Indian Private Security Industry in a very short span of the time. The services rendered by SISA GROUP is excellent and has a very positive proactive approach in Security functions as an business enabler. We wish them all the success in their all the endeavors in the future".
- COL(Retd) RAAJ MUNSHI,HEAD SECURITY-AGRO BUSINESS,ADANI GROUP
"It is certified that SISA has been security services to Essar Steel ,Hazira since April 2005 ,the bearing,performance and discipline of the guardshave been of very high standard.There have been no Major incident of crime in their area of responsibility.The agency has the resources to successfully augment the deployment at short noticeand their response to emergency situations is quick and effective.They have proved to be an asset to Essar Security Department.We wish them all the best".
- Col R.K.Vasal, VP & Head-Security&Fire, Essar Group.
"This is to certify that we have been using the Cash in Transit Services of SISA for the past one year at Mumbai and their Services have been Satisfactory."
- MICHAEL PEREIRA,
General Manager- Adminstration,
Thomas Cook (INDIA) Ltd.
"This is to certify that Shiva Industrial Security Agency(Guj)Pvt Ltd is providing security services to our Container Freight Terminal from October 2011.We found their services efficient, excellent and entirely upto our satisfaction.We wish them all the best for their future assignments."
- Mr T Selvaraj
Deputy General Manager
Gateway Distriparks(S)Pvt Ltd.
- Reliance Certificate of excellence